Recently, Germany's packaging industry met again at the FACHPACK exhibition in Nuremberg with this year's main theme having been 'Environmentally Friendly Packaging'. Addressing such a theme seems particularly relevant, because recent statistics published by the Federal Statistical Office (DESTATIS) show that in 2019, 72 kilograms of packaging waste per capita were collected from private final users with the latter marking a 4kg increase compared to 2018 and with Mecklenburg-Western Pomerania consuming the most. Especially since start-ups in the packaging industry could tackle this issue along with promoting eco-friendly packaging, this article has collected some inspiration for those in the bioplastics industry- an industry, which is yet to develop fully bio-based and 100% recyclable packaging solutions!
Understanding the Impact of Bioplastics Packaging
Bioplastics at a Glance
As a paper by Environmental Action Germany (DUH) explains,
"[t]he term 'bioplastics' may refer to either 'biobased' or 'biodegradable' plastics. 'Biobased' means that the material is partly or largely derived from renewable resources."

Environmental Action Germany , 2018
Examples for bioplastics are starch blends, bio-PET (polyethylene terephthalate), bio-PE (bio-polyethylene), bio-PP (bio-polypropylene) and PLA (polylactic acid), whereby combinations of PLA and starch can for instance be used for food packaging. As Muller, González-Martínez and Chiralt, three researchers at the Polytechnic University Valencia, outline, PLA starch sheets possess antimicrobial and antioxidant capacities. Furthermore, in combination with epoxidized soybean oil and maleic anhydride, or in combination with castor oil and hexamethylenediisocyanate, certain PLA-starch ratios (70–30 or 80–20) offer good mechanical resistance and flexibility.
Hence, with an additional benefit of PLA-starch multilayer films being their excellent barrier capacity for water vapor and gases, they constitute a solid alternative to non-biodegradable food-packaging. According to European Bioplastics, the main benefits of bioplastics relate to 1) saving fossil resources and aiming for carbon neutrality and, 2) adding biodegradability to the lifecycle of products. As the latter shows, not all bioplastics are biodegradable. The following graphic, published by European Bioplastics, illustrates this point.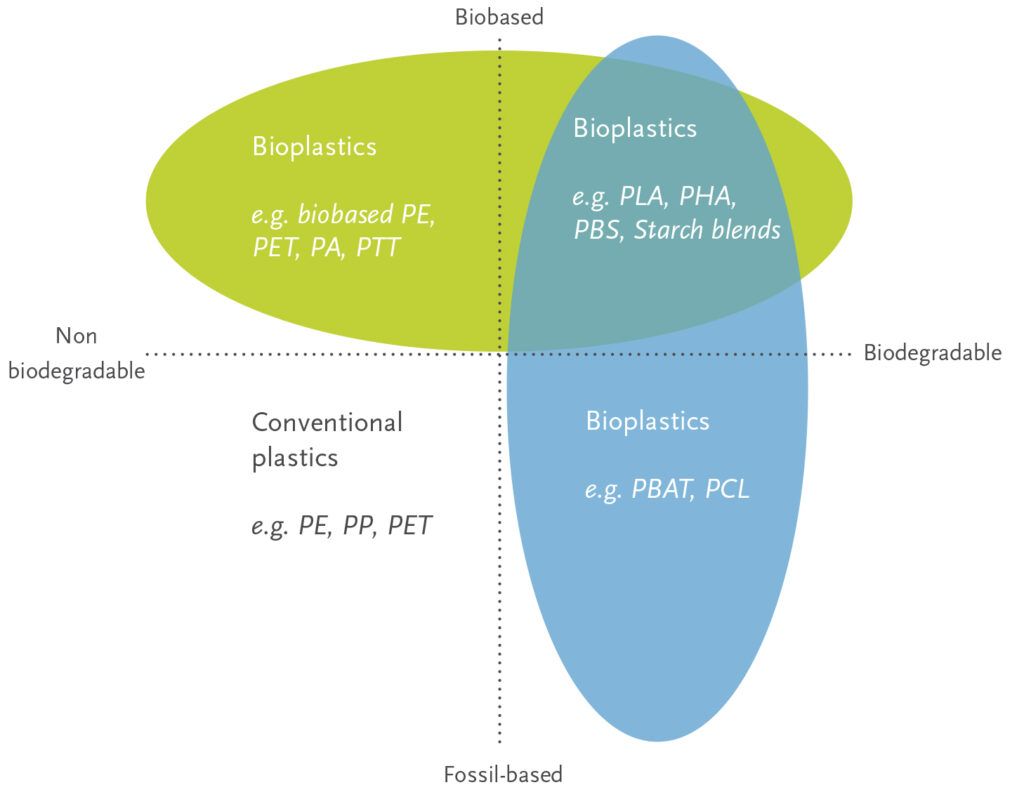 As the graphic shows, while PLA and starch blends are biodegradable, bio-based PE and PET are non-biodegradable. Notably, the main plastics used for packaging in the EU in 2019 were PE, PP and PET. With PE, PP and PET being outlined for their negative effects on marine and terrestrial ecosystems and global health, the usage of conventional plastics in the packaging industry has long been controversial. However, with Europe having met 25% of its need for plastic packaging instead through bioplastics in 2019, whereby bio-PE, bio-PET and bio-PA (polyamides) were the most popular, there is growth potential for bio-PP, PLA, PHAs (Polyhydroxyalkanoate) and, after its potential more general introduction in 2023, PEF (polyethylene furanoate).
EU Circular Economy, Net-Zero and Bioplastics
As three researchers at the universities of Latvia, Groningen and Maryland argue, the packaging industry does not only constitute the largest consumer market for plastics in the EU, but this market's consumption of plastics amounts to 39% of the global consumption of plastics. As such, understanding the impacts of certain bioplastics on the environment and global health is an important challenge in the upcoming years under the umbrella of a German and EU transition to a circular economy. Notably, biodegradability should not be the only criteria to assess whether a plastic is eco-friendly, because this would easily lead to accepting all bioplastics as both an eco-friendly and an ethical solution.
According to the DUH, the manufacturing of plastics from resources such as starch, sugarcane and cellulose involve the usage of fossil fuels for the cultivation and processing of crops, whereby both the eutrophication and acidification of the soil and water are related consequences with biodiversity loss marking a further downside. The latter proves that more research on the effects of bioplastics has yet to be developed. As the above researchers lay out, while bioplastics have various application possibilities, political support and a cheaper cost in correlation with high prices for oil, their production could pose a significant threat to the environment, especially if demand for bioplastics rises.
As the EU's Single Use Plastics Directive has entered into force in July 2021, the impact of its regulations on the bioplastics industry is the same as its impact on the plastics industry in general. However, with the exception of allowing the usage of "natural polymers that have not been chemically modified". As such, PEF, which is fully bio-based and 100% recyclable, as well as a plant protein-based bioplastic which is currently being developed by Xampla, could gain market importance at a later stage. In other words, while the bioplastics industry might not yet be developed enough to only rely on fully bio-based and 100% recyclable materials, start-ups could tackle this challenge alongside academia and other researchers.
Inspiration from Dutch Start-Ups in the Bioplastics Industry
Especially, since it is never a bad idea to take a peek at others for gaining inspiration, German start-ups in the bioplastics industry might want to learn from their direct geographic neighbours. With The Netherlands being well-known for promoting agricultural innovation, among others through respective research clusters at Wageningen University, which was ranked 1st in agricultural sciences worldwide in the Shanghai Ranking 2021, and for being the world's second largest food exporter, it makes sense that the Dutch packaging industry does not lack behind. In 2020, it was the first country to negotiate an agreement with the packaging industry in relation to the circularity and re-use of materials.
As Van Veldhoven, vice-president of the World Resources Institute (WRI) Europe and former state secretary for Infrastructure and Water Management explicitly emphasized in July 2020,
"Recycling is good, re-use is even better. From an international perspective, the Dutch packaging sector ranks among the leaders in the more efficient use of materials and cutting down of CO2 emissions. This deserves a compliment. Together we are working towards a clean, green future."

Stientje Van Veldhoven, 2020
Avantium Taking the Lead on PEF
While PEF is predicted to enter the EU market more generally in 2023, this prediction might be based on an ambitious project involving this bioplastic. The EU Bio-based Industries Joint Technology Initiative (BBI-JTI) runs from 2017 to 2025 and has received €24,999,610 EU-funding with additional funding by other parties. One of its major goals is to replace a large part of fossil-based polyesters with 100% bio-based polyesters such as PEF.
Coordinated through Avantium, a Dutch company which is headquartered in Amsterdam and has built up three pilot plants in Geleen and Delfzijl, the latter project hence regards PEF as a viable solution to petroleum-based PET. By 2023, the company aims to produce 5,000 tons of PEF per year with the latter being a particularly attractive packaging material for food such as beer and fruit juice, because it promises to keep oxygen and CO2 out.
BE O Lifestyle
While it might be inspiring to learn from large start-ups such as Avantium, smaller start-ups can also serve as a great inspiration. BE O Lifestyle is a start-up who makes drinking bottles from sugarcane with this material absorbing more than 3 kgs of CO2 during growth. To accelerate its environmental impact, the start-up cooperates with Trees for Future so that for each bottle sold, one tree is planted in Senegal, Mali, Chad, Cameroon, the Central African Republic, Uganda, Kenya or Tanzania.
In addition, the bottles are made from residual flows that remain as a result from sugarcane food production with BE O Lifestyle tackling waste management next to circularity considering that the bottles can be recycled as well. While both growing and harvesting sugarcane as well as the production of the bottles from sugarcane leads to CO2 emissions, with PLA made with the help from sugarcane hence not being fully biobased, BE O Lifestyle is keeping CO2 emissions at bay by burning unusable waste instead of obtaining it from another CO2 emitting source. Considering both the latter effort and the cooperation with Trees for Future, for each bottle sold, 80gs of CO2 are 'absorbed'.
Making Political Decisions
It is no secret that making decisions about the production of certain goods, or in this case packaging, is making political decisions. By designing new products, which enter the EU market, consumption can purposefully be influenced and environmental goals can be tackled. Especially since the bioplastics industry has both its supporters and critics, while it is still developing and growing, this industry offers diverse opportunities for start-ups at a smaller and at a larger scale. Companies, who are interested in the production of bioplastics, innovation in bioplastics, farming and smart-farming, knowledge-creation and research about the safety of bioplastics, and social entrepreneurship might all find their own place within this growing industry. Others might find it particularly interesting to offer alternative solutions based on more in-depth assessments of the potential negative impacts of bioplastics.
Centurion Plus
Whether you are a supporter or a critic of the bioplastics industry, our team can successfully advise you on various business and legal matters related to starting-up within the packaging industry in Germany! Especially, if you aim to tackle multiple aims at once, our expertise in relation with labour and employment, contracts and negotiations, corporate law, data protection, tax and customs, intellectual property, tax and tech, and banking and finance will effectively serve your purpose. However, if you only need advice in a singular domain, we are also happy to help.
For an initial consultation, contact us today!