As Europe urgently seeks alternative sources of energy, the abundant-resource nations in the Middle East and North Africa are looking to enhance their economic prosperity and clout.
Since the onset of Russia's incursion into Ukraine in February 2022, Europe has accommodated nearly 8 million Ukrainian refugees and allocated 523 million euros for humanitarian aid and civil protection assistance. Additionally, 9 billion euros have been dedicated to stability-oriented financial aid and 3.1 billion euros to bolster Ukraine's military forces. Furthermore, European businesses have faced significant indirect expenses due to sanctions imposed on Russia.
In summary, the majority of Europe's economic and political resources have been directed towards the largest military confrontation on the continent since World War II. Nevertheless, the EU continues to maintain focus on the Middle East and North Africa (MENA) region.
The loss of Russia as an energy provider has spurred new strategic interests, which will significantly impact the global geopolitical landscape in the coming decade. Moscow's role in supplying 45 percent of Europe's gas is likely to dwindle to zero soon. However, the Kremlin will not remain passive. The entire MENA region, with its vast oil and gas reserves, will become a part of the strategic rivalry involving the West, Russia, China, and other peripheral powers like Iran.
Recent documents, such as the latest version of the US National Security Strategy, the 2022 EU Compass, and the February 2022 declaration between China and Russia, highlight these emerging geopolitical tensions. Essentially, the February 2022 declaration serves as a manifesto for a Russian and Chinese-led alternative world order based on their values. Each document conveys a worldview where force is justified in asserting one's values. EU Foreign Affairs Minister Josep Borrell even stated that Europe "must learn to speak the language of power."
'It is not a coincidence that the leaders of France, Germany, and Italy have made several trips to Africa in recent months.'
A Europe determined to establish a joint military defence by 2030 would have been inconceivable a year ago, but the conflict in Ukraine has altered everything. It exposed not only the deep ideological chasm between Russia and the West, but also Europe's pressing need to reduce dependence on Russian oil and gas.
The MENA region is closely monitoring the situation in Ukraine. Governments from Baghdad to Algiers and Ankara to Doha are contemplating how the conflict will unfold. Although it affects grain supplies, some countries in the region view the crisis as an extraordinary chance to enhance their international stature. Algeria, for example, understands that with the right investments, it could present a feasible alternative for gas supplies. Similarly, Libya could provide an alternative for oil, if only it had a stable government. The recent visits of French, German, and Italian leaders to Africa were not coincidental. Their primary goal is to secure new sources of energy.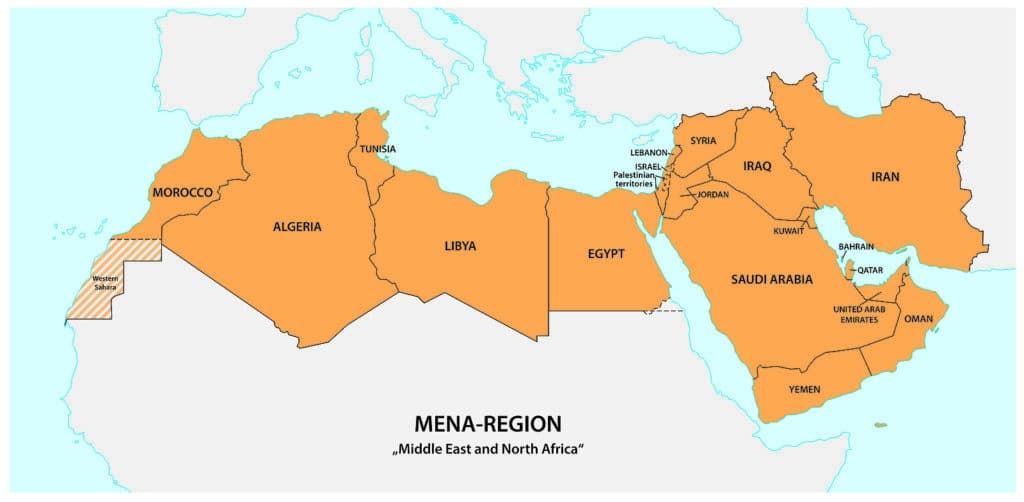 In the Middle East, Qatar has the potential to provide gas, while Saudi Arabia and Iraq could supply oil, although Iraq would need to revamp its infrastructure. In response to the demands created by the war in Ukraine, the United Arab Emirates has raised its planned energy investment spending for the next five years by nearly 20 percent, allocating $150 billion to boost short-term production. The aim is to reach five million oil barrels per day by 2027. Additionally, the country is swiftly advancing plans to solidify its role as a liquified natural gas exporter.
"The countries of Africa and the Middle East hoping for a new 'energy spring' must not forget that Europe is on the path to decarbonization."
In many aspects, Africa will play a pivotal role in shaping the future. The U.S. appears to be adopting this strategic approach, as demonstrated by the U.S.-Africa Leader Summit held in December 2022, which was previously convened in 2014. The summit announced several partnerships in critical areas such as climate change, infrastructure, and governance. This kind of forum is already a component of the strategies of many other countries, including China, Turkey, and France.
As for Russia, Moscow employs a distinct approach: directly engaging on the ground with paramilitary groups that support cooperative local governments, often involving human rights abuses. It is noteworthy that out of 54 African nations, 26 have refused, in one way or another, to endorse the UN General Assembly Resolution condemning Russian aggression against Ukraine. This serves as a clear indication that the West, particularly Europe, must not take Africa for granted, regardless of economic interests.
The geopolitical developments in the months ahead remain uncertain, with much hinging on the ongoing conflict in Ukraine. Nevertheless, it is improbable that Europe will concentrate on the pressing social issues of the Maghreb and the Middle East. Instead, they may overlook them. European capitals, now urgently needing energy, are more likely to disregard human rights violations in MENA countries.
The year 2022 exposed Europe's significant energy vulnerability, marking the beginning of a new era where the West will increasingly collaborate with MENA nations. The region's strategic importance has surged dramatically since February 2022, and it will likely persist even if the conflict resolved in the coming months.
However, one crucial point warrants emphasis: African and Middle Eastern countries anticipating a new "energy spring" must remember that Europe is committed to decarbonization, as reaffirmed by the REPowerEU plan in May 2022. To sustain their economies, countries like Algeria, Libya, and Tunisia must follow Morocco's lead and transition to renewable energy as soon as possible. This shift, however, will be a lengthy process, especially for Libya.
Centurion Plus
Are you an entrepreneur, a start-up or a SME with the goal to start up between or in Africa and Germany? Then our team will happily assist you on the legal side! We are specialized both in supporting multicultural businesses in Germany, in supporting African businesses in Germany and in supporting businesses across various African jurisdictions. While our support starts with providing help on immigration and relocation matters, it does not stop there – taxes, tech, intellectual property…You heard us! Contact us today to find out more!